Relevant background for this talk
Developer > 35 years
Multiple languages, frameworks, paradigms
Work with most of the tools mentioned below
Handled frameworks, tooling & testing migrations
SPA
Yep, we got it, now what?
Validations
Need to validate both on client side and server side
Duplicate code and effort
REST
Needs to support the SPA
Ends up matching app needs instead of proper REST
Often need multiple queries to serve a single UI function
GraphQL FTW? N+1, needs more complex tooling, heavier load on the backend
SEO
What do you mean no SEO?
SSR
Hydration
State
Hmm, need to manage state and app data
Redux, Mobx, Vuex (past), Pinia (present)
What happened to the URLs?
Can't share links
Need to implement a routing solution
Representing all the options via Router and re-usable links is a hassle
Broken navigation (back button)
Leading to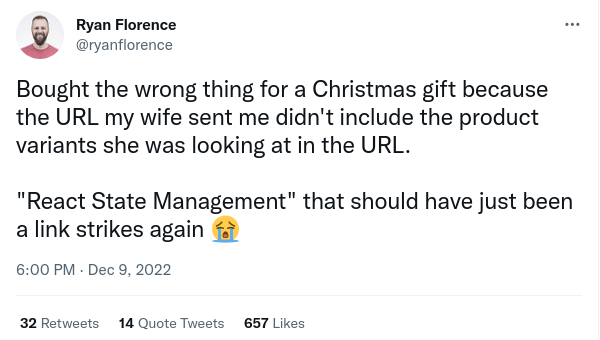 Yep, he's the co-author of React Router
OK Boomer, now what?
Not suggesting abolishing FE frameworks
Think are they really needed?
Be aware of inertia based decisions